Description
ON DEMAND PROGRAMS:
Our live programs will be available ON-DEMAND for credit soon after the live presentation.
​​Topic Highlights:
2:00 p.m. Introduction
2:10 p.m. Overview
2:40 p.m. Workforce Issues: Employment Issues
3:10 p.m. Technology/Intellectual Property Issues
3:40 p.m. Tax Policy
4:25 p.m. The European Lawyer's Perspective
4:55 p.m. Moderated Discussion and Questions from the Audience among Speakers
5:30 p.m. Adjourn
Your registration includes complimentary coffee, drinks, snacks and wifi. Course materials are provided as a PDF download.
Members: remember to register for our Membership Meeting, that same day! You'll get an extra free 30-minutes of CLE and get to know our network a bit better.
State Activity Number
TX: 901375116
MCLE Information
Texas: This course has been approved for Minimum Continuing Legal Education credit by the State Bar of Texas Committee on MCLE in the amount of 3-credit hours, of which 0 credit hours will apply to legal ethics/professional responsibility credit. For information on other states, please see our general MCLE policies tab for this listing. New York: The courses you take with EBA, upon approval by the State Bar of Texas MCLE, will count toward your New York CLE requirement under New York's Approved Jurisdiction policy. To read the policy in full, please see the New York CLE Board website. California and Illinois: The EBA plans to submit an application for each activity for credit to California and Illinois accrediting authorities. According to those jurisdictions rules, we must wait to summit for completed written materials. Check back with this page for updates on pending submissions. Many other states will allow attorneys to receive CLE credit by listening to courses approved in these states. Please speak with your state's board of CLE to ensure that they will accept credit from an out of state provider in one of these states.
Location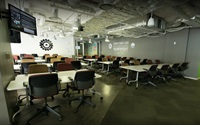 701 Brazos St, Suites 500 and 1600, Austin, Texas 78701, United States
(512) 548-9675
capitalfactory.com